Quote: "The song of the righteous is a prayer unto me, and it shall be answered with a blessing upon their heads."
D&C 25:12
Advertise
here
Amy Potter (3 Free Arrangements)
Born and raised in Portsmouth, Ohio, Amy studied piano from age 8 to age 13. After years of travel and travail, she returned to her hometown area and received Christ as her Savior. She is married, and her husband, Woody, helps record her piano instrumental mp3s in a small home studio. She has played accompaniment for choirs and for special music and is now one of the pianists at Victory Baptist Church in West Portsmouth, Ohio. Amy enjoys composing gospel songs and arranging piano accompaniments for vocalists. She also enjoys playing special arrangements of public domain hymns. Her style is a combination of Christian/Southern Gospel/Folk/Ragtime. She is a self-taught composer. Amy gives God the glory for all that she has accomplished.
Visit
Amy Potter's website
if you'd like to see his/her site. See composer song statistics
here
.

You could also filter these songs (limit them) by type. Currently: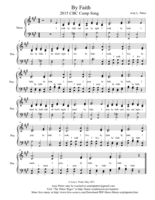 Duet
,
Vocal Solo…
By:
Amy Potter

. Topics:
Vocal Solo…
,
Children's Songs
,
Faith
,
Honesty/Integrity
,
Trust in…



Piano Solo
By:
Amy Potter

. Topics:
Atonement…
,
Blessings
,
Christ
,
Praise
,
Instrumental…


SATB
,
Organ…
By:
Amy Potter

. Topics:
Atonement…
,
Christ
,
Easter
,
Resurrection
,
Flute…