Quote: "The song of the righteous is a prayer unto me, and it shall be answered with a blessing upon their heads."
D&C 25:12
Advertise
here
Allan D. Osgood (1 Free Arrangements)
I'm a musician who occasionally dabbles in composing and arranging music for a variety of settings.
Email Allan D. Osgood
if you'd like to send a personal note. See composer song statistics
here
.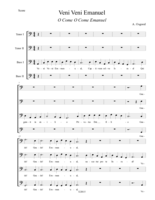 TTBB
By:
Allan D. Osgood
Topics:
Christmas
,
A Cappella…
,
Other