Quote: "The song of the righteous is a prayer unto me, and it shall be answered with a blessing upon their heads."
D&C 25:12
Emma Hales (1 Free Arrangements)
I am currently a freshman at BYU Provo and plan to major in nursing.
Contact Emma Hales
if you'd like to send a personal note.
See composer song statistics
here
.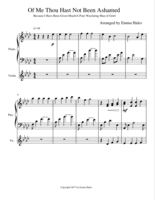 Piano Solo
By:
Emma Hales

Topics:
Atonement…
,
Charity
,
Christ
,
Comfort…
,
Compassion
,
Example
,
Family
,
Friend/Friendship
,
Gratitude…
,
Home/Family
,
Humility/Meekness
,
Joseph Smith
,
Kindness
,
Love
,
Music and…
,
Obedience…
,
Sacrifice
,
Savior
,
Self-Improvement
,
Service
,
Strength
,
Unity
,
Work
,
Medley
,
Violin…